The TM technique is natural and effortless. During TM, the individual's awareness settles down and experiences a unique state of restful alertness.
One simply experiences the mind becoming more calm and quiet, and the body becoming more and more deeply relaxed. The mind transcends all mental activity to experience the simplest form of awareness, transcendental consciousness.
The experience of transcendental consciousness develops the individual's latent creative potential while dissolving accumulated stress and fatigue through the deep rest gained during the practice. This experience enlivens the individual's creativity, dynamism, orderliness, and organizing power, which result in increasing effectiveness and success in daily life.
The deep rest of meditation also helps to improve emotional well-being and physical health. Over time the benefits accumulate. Scientific research has consistently shown that people who practise Transcendental Meditation regularly are healthier, happier, more intelligent and creative, have a longer life expectancy and use fewer non-prescription drugs.

There are many other techniques of meditation available - so how does Transcendental Meditation differ?
Most other meditation techniques involve either concentration or visualization. Transcendental Meditation is based on allowing the mind to settle down in an easy natural way.
If we think of the mind as an ocean, with our everyday busy thoughts being the ruffled waves on the surface, and our more relaxed, intuitive experiences as the deeper, quieter levels, then when you concentrate or visualize, your mind remains on the surface level.

In contrast, TM can be compared to diving deep to the bottom of the ocean. Here you experience the deepest silent levels of the mind, the source of all creativity, intelligence, peace and happiness. On coming out of meditation, these qualities become infused into the surface levels. With repeated diving, more and more benefits are experienced.

TM most effective

A study published in American Journal of Health Promotion analysed research on various forms of meditation and relaxation using a sophisticated statistical technique called "meta-analysis".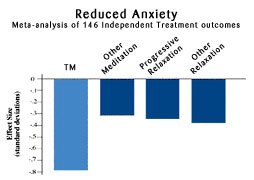 The research analysed a total of 597 studies involving an estimated 20,000 subjects. It found TM to be the most effective in the areas of anxiety reduction, blood pressure reduction, physiological relaxation, self-actualization, improved psychological outcomes, and decreased use of cigarettes, alcohol, and drugs.




Transcendental Meditation is taught by trained and qualified teachers, in a standardised 7 step course. This course is taught in over 140 countries worldwide.

Transcendental Meditation is unique and very simple to learn and practise. Your first step to starting TM is to contact us and we will be able to tell you when our next FREE introductory course will be held. At this informal talk, we will give a broad overview of the practice of Transcendental Meditation and will answer any questions you may have. There is no 'hard sell' and you will not be expected to make any commitments.


The Seven Steps to Learning TM ...

STEPS 1-3 Introductory sessions which introduce TM and its benefits, explain the origin and principles of TM, and how it differs from other techniques. (1 1/2 - 2 hours)
STEP 4 Personal instruction in the technique, after which you go home and enjoy the benefits. (2 hours)
STEPS 5-7 Seminars to offer further information about the technique. (1-2 hours each)

After the introductory sessions, the teaching takes place in four sessions on consecutive days, at a time to suit you. The first instruction session is always on a one-to-one basis where you practise TM for the first time. The following three sessions may be held in a group.

There are also optional follow-up seminars, included in the initial course fee. Individual attention is available at all times.

At the end of this course you will have all the knowledge and experience you need to continue meditating on your own at home for the rest of your life. However, if you wish, we will keep you informed of activities which include meditation checking, evening lectures, weekend courses, advanced courses.


For more information about these courses or to arrange a time to attend an introductory talk or learn TM, have a look at our enquiry form and send us an email. Alternatively you can contact us by telephone or fax.

We would love to show you how easily TM can improve the quality of your life and are committed to ensuring your complete satisfaction.


Research on Transcendental Meditation has been conducted at more than 200 universities, hospitals, and research institutions in 30 countries.

As a result, more than 600 research and review papers have been written covering a wide variety of physiological, psychological, and sociological effects. These have been collected in many volumes of research papers, of which over 190 are reprinted from scientific journals.

Your first step to starting TM is to contact us.